If you are looking for the perfect gift for everyone on your list this holiday season, you have come to the right place! Read on for our top gift suggestions for the holiday season.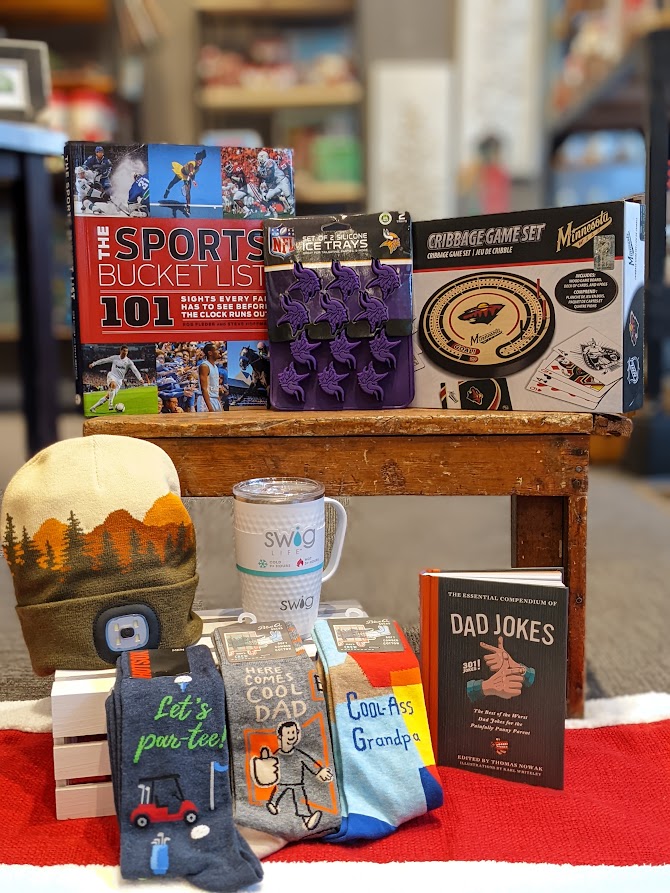 If the men in your life are sports fans then you cannot go wrong with a gift from one of their favorite local sports teams. From a Wild Cribbage Board to Vikings Ice molds we have a wide variety of branded gifts they will love. For the man that is hard to shop for- sock are always the answer! You can pick a pair that lets them brag about being a cool dad, their love of golf, or from a selection of other witty and colorful options. Of course in the winter months, a Swig mug to keep their coffee warm or a hat to keep them warm while lighting the way will always be appreciated.
When shopping for a music aficionado, GoodThings is the place to go. We have a gift for the music fans of every generation. Shop music books highlighting the top records of the 70's, 80's and 90's for the music fan who loves to reminisce. For the music fan who misses their old collection of records, one of our record puzzles will be perfect!. Or for the die hard Prince fan, shop a wide variety of gifts at GoodThings, including this amazing throw pillow.
One of our top gift suggestions of the year is a bird feeder that will bring variety and beauty to every yard. Our bird feeders come in so many unique shapes and sizes so you will be able to find one unique to even the most seasoned birder. For an added delight, gift a bird feeder that attaches to a window for an up close view at the visiting birds.
Whether they love the late queen or just want to feel like royalty we have a gift for them!. Our books on Queen Elizabeth are great to read and we have options for any age. For those more nostalgic our Queen Elizabeth Alter Candle will make the perfect gift.
Do you have a pet or pet parent on your list this year? Check out these ideas. For the dogs, shop our variety of fun and funny dog toys and our bags of dog treats that give back with every purchase. For the cats, shop a cozy Cat Cave or Cat Nip that will delight.
For the Pet Parents shop a selection of our top gifts from measuring cups to books, puzzles or magnets.
Everything you need to make the best holiday bar is available at GoodThings! Hilarious coaster are a hit stocking stuffer every year. Festive drink markers and fillable boozeball will make every holiday gathering all the merrier! For the seasoned at home bartender shop our wide selection of cocktail recipe books, beautiful glasses, bar gadgets, and drink mixes.
Send love for Minnesota this holiday season. One of our top gifts of the year is our line of candles from LakeHouse Candles. Named for MN bodies of water, these will give a delightful scent reminiscent of their favorite state. For the cook, gift an adorable kitchen towel, or our favorite MN wood board. Of course you can never go wrong with a Puzzle Twist Puzzle. Our choice? Our "You Betcha?" puzzle.
If you are shopping for a cozy gift this season you cannot go wrong with our Nordic Beach Plush Jacket. This jacket is comfortable, soft, warm, and one size fits all. The best part? It come is so many colors you can fid everyone's favorite! To pair with their new cozy top, everyone on your list will be over joyed to receive a new pair of our World's Softest Socks. We have so many colors and patterns and they truly are the softest socks in the world.
Jewelry Gifts
Perfect as a stocking stuffer or a special git, shop our collection of Scout Jewelry. These necklaces can double as a wrap bracelet which gives them unique variety and allows them to fit into so many fashion styles. These necklace-bracelets are also available in a wide selection of styles and colors to suit anyone's taste. These are a perfect gift for the jewelry wearer of any age.
If you are still looking for more gift suggestions- check out our Holiday Gift Guide shopping page for even more great gift ideas!